Just as the remaining renewable energies sources that are being explored by the Government in Timor-Leste, the photovoltaic units (or solar project) implementation project is specially directed for the families that live in remote areas, where difficulties still exist in the national energy network installation. In these more inaccessible areas, the use of this type of energy has already demonstrated its effectiveness.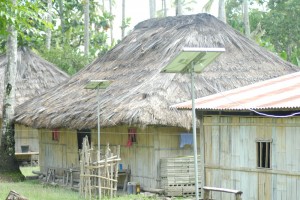 The first solar panels were installed in 2008. Nowadays, in all the districts, with the exception of Díli, there are sucos with solar panels, where two thousand, one hundred and forty three families are covered in the whole territory.
For the acquisition of this source of energy, the process is identical to the one that applies to the remaining projects. The community leader (Suco Chief) requests the panels and is responsible for the establishment of a management committee. In spite of the Suco Chief being the higher responsible person, the equipment is the property of beneficiary families. The Government, in a first stage, guarantees training for the persons responsible for the use of the technology, and afterwards ensures the technical assistance of the solar panels.
The use of this resource will be necessary until the moment when the national energy network will arrive to these areas. "When this happens, there will be a readjustment of energy in this areas and the community can choose to remain with the solar panels, because they are sufficient for their consumption, or if they need more energy from the e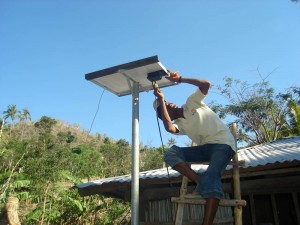 lectric national network", explained the Secretary of State for Energy Policy, Avelino Coelho.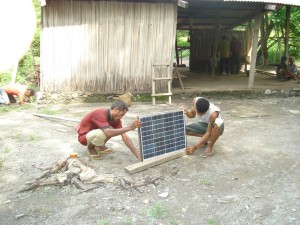 The solar panels have a 25 year duration. The Government's main objective is that the communities become energy self-sufficient. "And in a few years the reverse may happen: the National network may buy energy from these small renewable energy sources, spread throughout the country", concluded the Secretary of State, Avelino Coelho.
Originally from Timor Leste Govt, 2010